Pictures from events.
You'll find images of member's whizzers in the Virtual Garage but here is a chance to see other stuff we have seen and pointed at at various events. .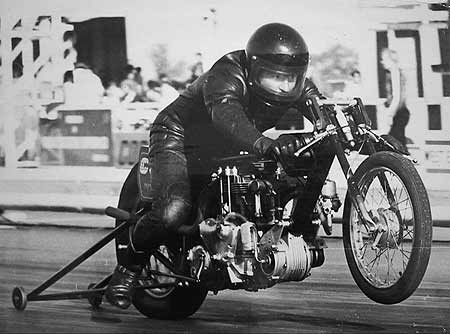 Tony's Martlet hillclimb car can be found on the garage page but here's a photo from his drag racing days. The bike is his 900cc Morgo powered "Intruder" which regularly ran in the 9s. Note the Shorrock supercharger (which of course marks him as a true gentleman)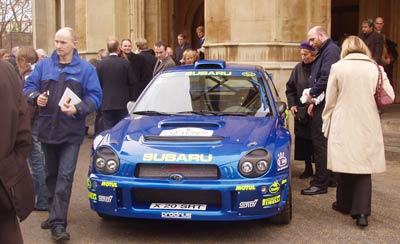 Cath sent these pictures from Richard Burns' Memorial Service at St Luke's, near to the Royal Marsden Hospital in London.
It was a very sad, but uplifting and moving service - the tone set right from the start by the presence of Richard and Robert's Peugeot challenge car and 2001 Impreza parked outside (blub) (see pics).
The opening music was Elgar's "Nimrod" (blub), the first hymn was "Lord of the Dance". The first address was spoken by Jon Desborough. Steve Rider read an excerpt from Richard's autobiography. The second hymn was "Jerusalem"(blub), Jeremy Clarkson read Rudyard Kipling's "If" (blub), Colin McMaster (a friend of Richard's) reminisced about their Prodrive days, we sang "Silent Night". Richard's sister Joanna read "Death is Nothing at All" by Canon Henry Scott-Holland and the final hymn was "Lord of all Hopefulness".
After the service I loitered outside with the great and the good for a while, and was openly and warmly acknowledged by Tiff Needell, Jon Desborough, Corrado Provera, Steve Rider and any number of serious-looking people NOT wearing "speccy" rally jackets. Was this because I was proudly wearing my full set of Network Q/Wales RallyGB marshalling badges (less the one I can't find). Was the acknowledgement from and to those on the 'inside' of the motorsport world, as opposed to those on the sofa with a beer. Maybe? Who knows. Perhaps they thought I was someone else.
I found an opportunity to shake Jeremy Clarkson's hand and thank him for the little snippet which Top Gear broadcast in honour of Richard. He was gracious, said that it was actually his producer's idea but he had been totally in favour, and made reference to the news of Richard's passing being overshadowed by that of a certain footballer, whom Mrs Clarkson then referred to as a 'drunken lout'. Respect to scary Mrs Clarkson!
Finally, the order of service, which I can't look at without blubbing some more, says on the front:
"RICHARD BURNS
A celebration of his life
GOD HAD A RALLY CAR IN HEAVEN
=HE NEEDED THE BEST RALLY DRIVER TO DRIVE IT,
SO HE CALLED RICHARD"
May Richard rest in peace,
Cath
Also on the order of service it says "Donations in memory of Richard may be made to Cancer Research UK and sent to: A.B. Walker and Son Limited,
158 Reading Road, Henley-on-Thames, Berkshire, RG9 1EA"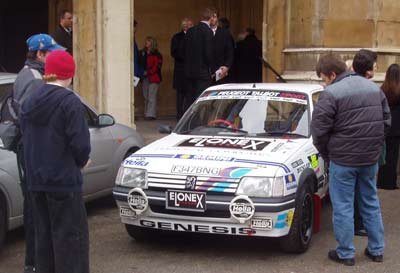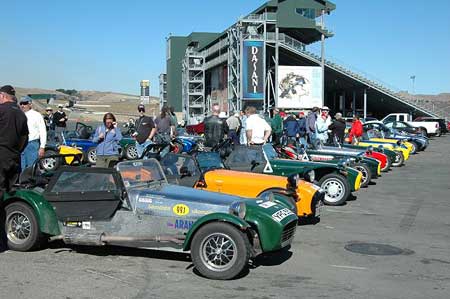 Trevor's car in the foreground during an epic Sevens tour of the US in 2005. For lots more images see http://www.chevroletwestfield.co.uk/gallery/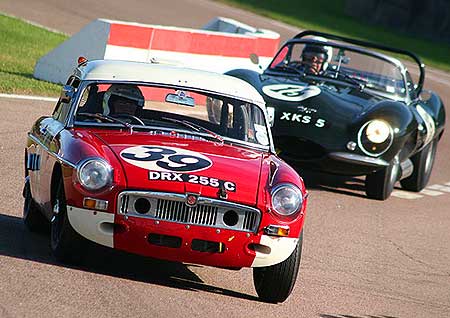 The Le Mans MGB of Barry Sidery-Smith, now beautifully restored by Jeremy and Co. in action at the Goodwood Circuit Revival.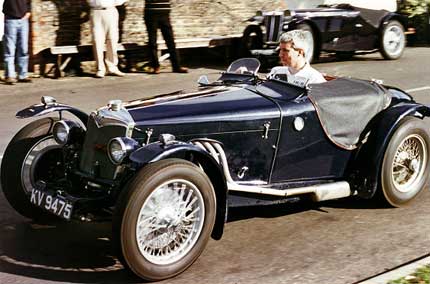 Peter driving the Ex-Mike Hawthorn Riley Ulster Imp at Tilford. A wonderful and truly historic car. Many thanks to owner Tim Ely for his generosity.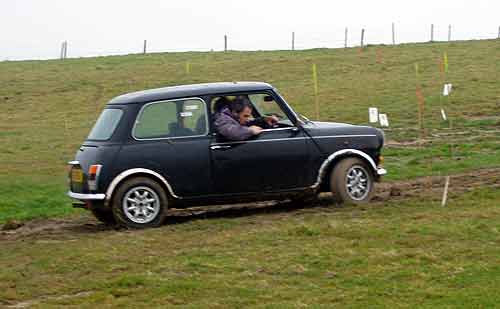 George has finished the welding on his Mini and it now not only has an MOT but a competition history as well. - Cambridge Car Club Roger Holmes Memorial Production Car Trial, January 2006.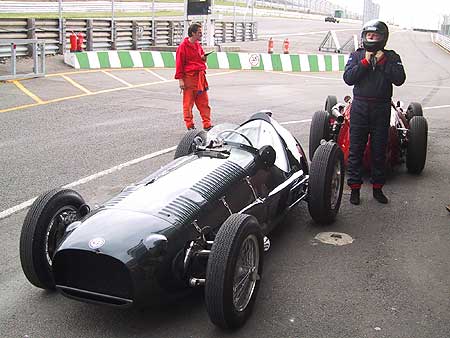 Who was that masked man? We had a lot of fun livening up a recent track day by borrowing some track time in their lunch hour, the V16 BRM gets a brief airing.
What does it sound like? - Indescribable!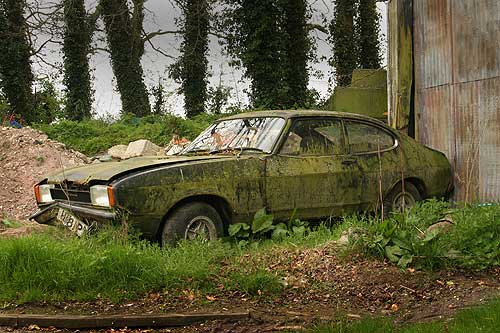 The Creature from the Black Lagoon. A 2.0 litre JPS Capri is slowly reclaimed by nature.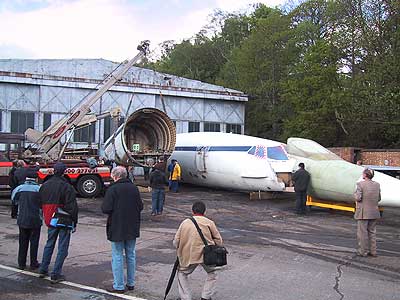 xxxxxxxxxxxxxxxx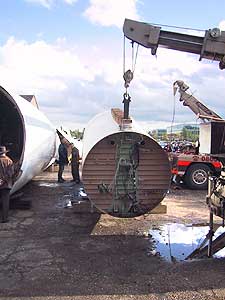 Concorde G-BBDG Arrives at Brooklands. - The two main fuselage sections are lifted off the lorries on May 5 2004.
She's now almost back in one piece as volunteers have been working non-stop to restore her to her former glory.
Visit www.brooklandsmuseum.com to find out more and make a donation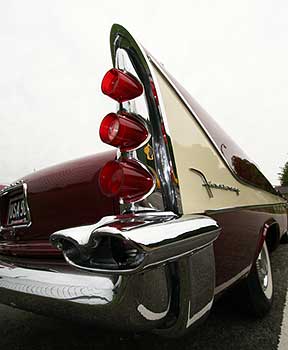 Brooklands played host to a big gathering of American cars in Spring 2005. This unusual Desoto Sportsman was spotted among the Dodge Chargers and Corvettes.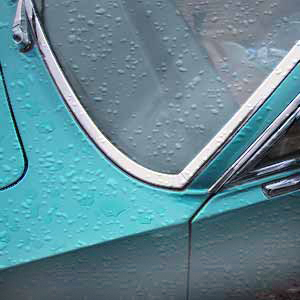 Ever wondered what kind of car is on the Peter Gabriel album? -Me too.
I thought I'd cracked it when I saw this Aston Martin V8, especially as the colour is close but no, look: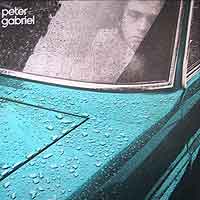 Apparently The best theory is that it's a1964-69 Lancia Fulvia Coupe. (thanks Darryl) - I'll look out for one and see if I can re-stage the photo.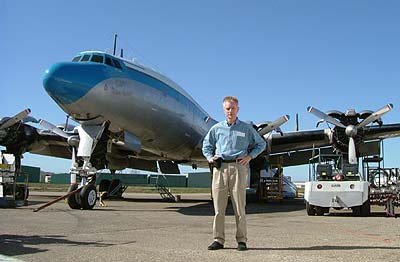 Our Aviation Correspondent, Mike Zoeller recently spent a week in California helping to restore N75344 - A Lockheed Constellation.
A fabulous and rare beast, this is now in flying condition, sponsored by Breitling.
If you like old Prop -driven Lockheeds, visit Mike's site dedicated to them: Burbank's Best- The Lockheed Twins site.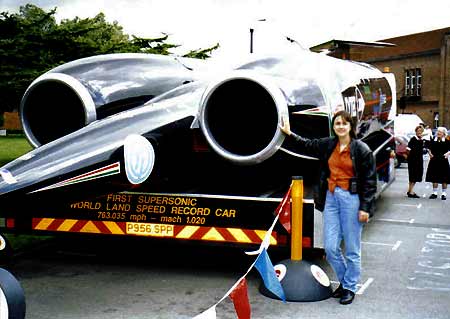 Cath with Thrust SSC at Southampton University, while its creators were collecting their honorary degrees . A while ago now but hey, it's a historic photo from the Roberts Archive of Interesting Stuff.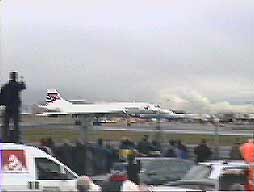 The very last ever Concorde flight takes off from Heathrow to fly to Filton. (Grabbed frame from video footage.- Ill put the movie up here when I've worked out how)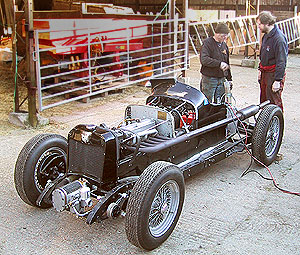 "Ah.......... Hello Ted......"
Robin's MG Magnette racer is fired up in the farmyard during major re-fettling by Rob, hence the lack of bodywork.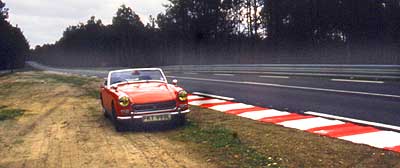 Following the Midget's triumphant return to Le Mans the other year, I managed to find this snap from
March 1987. I lived in Orleans for a while and took the car across for a pilgrimage.
If you look carefully you can see the nearside headlamp rim has been nicked.
Aah, France... some things never change...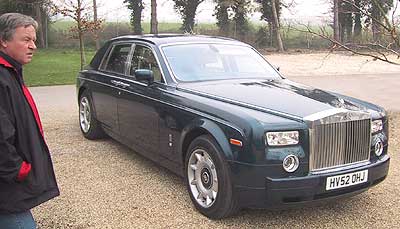 The new Rolls-Royce. Oh dear! Tony's face says it all.....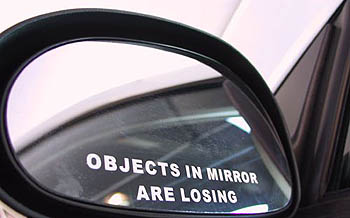 "and now my friend, the First Rule of Italian Driving. - What's behind me is Not Important..."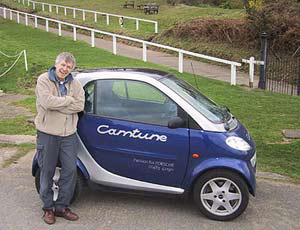 Who's a Smart chap then? Dob and his new little friend contemplate the Brooklands Test Hill.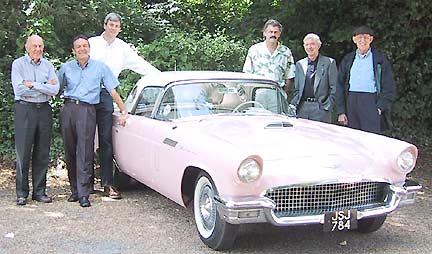 Gordon Murray's Pink Thunderbird at the Barley Mow, summer 2001.
L-R: Eric Thompson, Dave Price, Peter Renn (who he?), Gordon Murray, Tony Brooks, Ken Tyrrell.
The occasion was one of Eoin Young's famous motorsport lunches and a wonderful afternoon. P.R.
(read the whole story in Eoin's new book: "IT STILL BEATS WORKING" - plug, plug..)


HOME---EVENTS---GARAGE---L.S.R.---GALLERY---FEATURES---SPARES---LINKS---CONTACT